8 gluten-free protein powders for women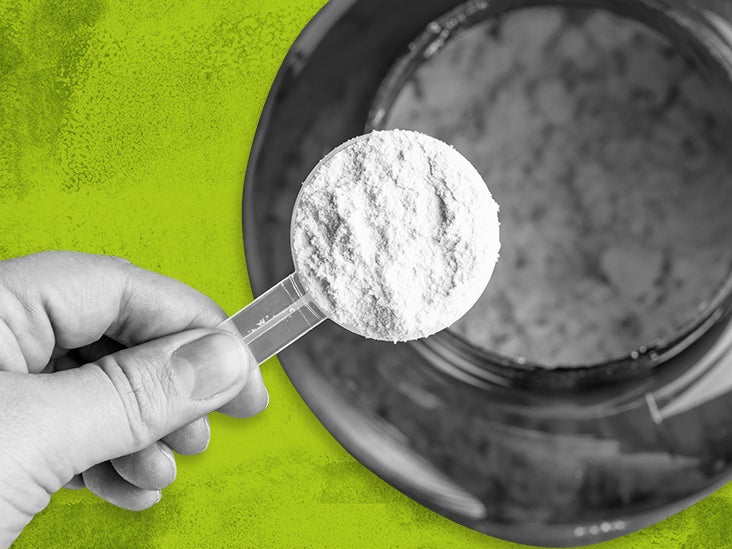 Protein powders are dietary supplements that may help people reach their fitness and weight goals. Several companies offer gluten-free protein powders to buy online.
Quick links
Protein, a complex molecule comprised of amino acids, is one of the essential macronutrients, along with carbohydrates and fats, that make up a person's diet. Protein provides the building blocks for muscles, tissues, organs, and other cells in the human body. The body cannot store amino acids, so people must consume them through their diets.
Protein powder is a nutritional supplement derived from animals, plants, milk, or eggs that people use to add protein to their diets. For example, people can add protein powder to baked goods or drinks, such as milk and smoothies.
Supplementing diets with protein has various health benefits, including:
Weight loss
Protein powder may support weight management.
Overall, research suggests that high protein diets promote fullness and regulate appetite, leading to decreases in body weight, weight circumference, and other health metrics, such as triglycerides and blood pressure.
A more recent review of studies found people with overweight or obesity who supplemented their diet with protein powder experienced an improvement in cardiovascular disease risk factors and body composition.
Muscle recovery
A 2018 review found that protein supplementation after a resistance or endurance workout improves physical performance and enhances recovery.
A similar review found that taking whey protein after exercise restores contractile muscle function and enhances muscle strength. In addition, a recent 2020 study found that supplements containing leucine, an essential amino acid critical for muscle growth, reduce muscle fatigue in wheelchair basketball players.
Muscle mass maintenance and growth
Increased protein intake in conjunction with resistance training, is widely understood to be essential for building and maintaining muscle mass. Research notes that consuming more protein during resistance training may help the body maximize the muscle-building benefit of protein.
However, the study also states that there is only a marginally greater effect on muscle building if a person consumes more than 20 grams (g) of protein for their workout.
Nutritional supplementation
Athletes, older adults, and people who require higher protein levels than they can easily obtain from food alone may benefit from supplementing with protein powders. Similarly, those who follow vegan or vegetarian diets may find that protein powders help them reach their daily recommended protein intake.
Learn more about the benefits of protein powder here.
Some people may prefer to consume gluten-free protein powder.
People with celiac disease or non-celiac gluten intolerance may need to avoid products that contain gluten, including supplements. People who have these conditions may want to avoid protein powders that contain wheat or gluten-containing grains, as these can trigger symptoms such as:
People who follow a gluten-free diet, including consuming gluten-free protein powder, should ensure they consume a balanced diet that includes all the essential nutrients. Depending on which foods a person omits when following a gluten-free diet, they may develop deficiencies in the following nutrients:
Some gluten-free protein powders may also contain these essential nutrients.
Learn more about what gluten is and how it affects the body here.
We use "men's" and "women's" in this article to align with how companies market their products, but there is no need to stick to one or the other. A person should choose the product with the fit, style, and features that work best for them.
There is a wide variety of protein powders available on the market today and a range of factors to consider before purchasing:
Protein types: Protein powders may derive from animal or plant-based protein. Plant-based products often contain soy, hemp, and pea protein, whereas animal-based products often contain whey, casein, and egg.
Ingredients: Some protein powders may contain artificial colors, flavors, and added sugars. Always read the ingredients list carefully before purchasing.
Fiber content: Some protein powders contain more fiber than others. Fiber helps people feel fuller for longer, which may support weight management.
Isolate vs. concentrate: Whey protein isolates contain more protein than concentrates and have minimal fat and carbs, including lactose. Isolate protein powders may benefit those with lactose intolerance.
Dietary requirements: People with nutritional needs should ensure the protein powder they purchase does not contain any ingredients they wish to avoid.
Flavor: Protein powders are available in different flavors or unflavored. Unflavored products are more versatile and may suit those who use protein powder for cooking or baking.
Cost: The price of protein powders varies across brands. Additionally, some types of protein powder, such as whey isolate, may be more expensive than whey concentrate, for example.
There are various gluten-free protein powders available to buy online.
Please note, the writer has not tested these products. All information is research-based.
This vanilla-flavored, gluten-free protein powder contains organic plant-based pea protein. Each serving contains 20 g of complete protein and 150 mg of choline.
Ritual states that this product helps build lean muscle mass and makes people feel full for longer. The product contains monk fruit and fermented sugarcane sweeteners.
Essential Protein is Informed Sport-certified and contains non-GMO ingredients. The company states that this product is free from most common allergens.
Ritual recommends mixing 1 scoop of protein powder with 8–12 ounces (oz) of cold liquid and shake to mix.
This unflavored gluten-free protein powder contains 20 g grass-fed collagen, 80 milligrams (mg) hyaluronic acid, and 100% of the recommended daily values for vitamin C per serving.
The company states that collagen supports healthy skin, joints, hair, and nails. However, collagen is not a complete protein, so people consuming this product may not receive all the same health benefits as they would from a protein powder containing complete protein.
The hyaluronic acid and vitamin C may boost the body's natural collagen production.
This product is Whole30-approved, dairy-free, paleo-friendly, and contains no added sugars.
Vital Proteins recommends people dissolve 1 or 2 scoops in hot or cold liquid per day.
This gluten-free product contains 21 g of organic protein blend from pea, brown rice, and chia seeds per 150 calorie serving. Additional nutritional values per serving include 5 g of fiber. This protein powder does not contain any added sugar or artificial ingredients.
Orgain states that the product is USDA-certified organic, Kosher, and suitable for those who follow a vegan and dairy, lactose, or soy-free diet. It is available in vanilla bean flavor.
The company recommends people mix 2 scoops of protein powder with liquid or while baking.
This gluten-free, ready-to-drink shake contains 20 g of vegan protein from pea, sunflower seed, and organic pumpkin seed. Other ingredients include:
In addition to protein, it contains 3 g of fiber, 1 g of omega-3 ALA, and 11 vitamins per serving. Vega states that this product is non-GMO and suitable for those following a vegan diet. Additionally, this protein powder is soy and dairy-free, low glycemic, and contains no additives.
The company recommends that people keep this product chilled and shake well before drinking.
Vega Protein Shake is available in vanilla and chocolate flavors.
Garden of Life states that this gluten-free protein powder is beneficial for weight loss. Each serving contains 28 g of complete protein and 8 g of fiber from organic pea and sprouted brown rice protein.
The product also contains green coffee bean extract, raw chromium, ashwagandha, and organic cinnamon, which the company states support weight loss.
This product is organic, non-GMO, and Kosher. It is suitable for those who follow a soy or dairy-free diet. The company recommends mixing 1 scoop of powder with 10 oz of liquid.
Garden of Life Organic Meal Replacement is available in original, coffee, chocolate, rich chocolate, vanilla, and vanilla bean flavors.
Each serving of this gluten-free whey protein isolate contains 20 g of protein, including branch-chain amino acids (BCAAs) for muscle building and naturally occurring electrolytes, such as potassium for hydration replenishment during workouts.
Klean states that they do not use any additives, soy, egg, or tree nuts in their ingredients. This product is NSF-certified under their Certified for Sport program and is available in natural chocolate or natural vanilla flavors.
The company recommends taking 1 scoop daily within 45 minutes of exercise.
This gluten-free, ready-to-drink protein shake contains 20 g of complete vegan protein from pea and organic pumpkin seed. This product also contains:
This product does not contain any additives, stevia, or sugar alcohols. It has a low sugar content and is dairy and soy-free.
OWYN is available in chocolate, cold brew coffee, cookies and cream, strawberry banana, and vanilla flavors.
The company states that this product has an 18-month shelf life and does not require refrigeration unless opened.
This gluten-free protein powder contains 18 g of organic plant-based complete protein per serving. Its ingredients include:
ALOHA Organic also contains essential nutrients, such as fiber, iron, prebiotics, and electrolytes. The company states that this product does not contain stevia and uses coconut sugar to sweeten.
This protein powder is low-carb, non-GMO, and soy and dairy-free. It is available in chocolate and vanilla flavors.
ALOHA recommends mixing 2 scoops of protein powder with 12 oz of water or plant-based milk. People can also use this product when baking.